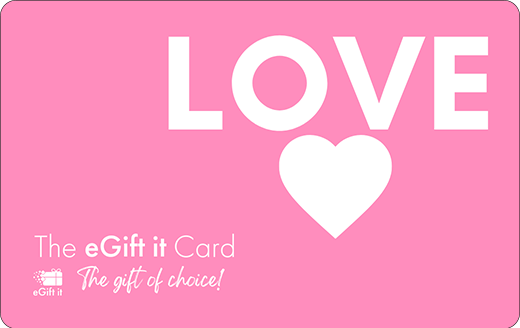 Discount will be applied at checkout
Redeemable
Online
Gift Card Details
Give the eGift it Love gift card - it's the gift card of choice!
By gifting an eGift it Love Card you are giving your loved ones the opportunity to treat themselves to something they really want. No matter what the occasion, give the ultimate digital gift card. eGift it Variety Cards can be exchanged for any branded retailer gift card on the eGift it website. That means access to lots of brands and choice for your recipient.
For your recipient to exchange their eGift it Love gift card, it's as simple as 1, 2, 3.
1. After receiving their gift via email and SMS, the recipient simply clicks the "Pick Your Digital Gift Card" button.
2. The recipient will then be able to view all the gift cards they can choose from.
3. Once they've selected a gift card, their recipient details will be pre-populated and the gift card "Swap" will be completed.
The digital gift card is then sent by email to the recipient.
Please note that once an eGift it Variety Cards is exchanged for a digital gift card this choice is final and cannot be exchanged or refunded. Please select carefully.
For more information got to About eGift it Card