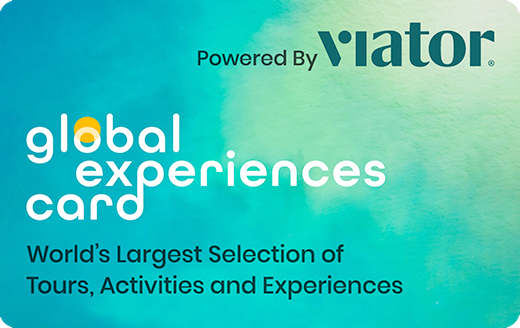 Redeemable
Online
Gift Card Details
The Global Experiences Card Powered by Viator, a Tripadvisor Company, is redeemable at https://www.globalexperiencescard.com/ towards over 350,000 tours, activities, attractions, events and experiences worldwide in over 200 countries and territories. Whether it's a day out with your family in or around where you live to visit a zoo or museum, or a city tour during your travels, the Global Experience Card Powered by Viator provides you all the tools needed to search, decide and book incredible experiences. Tripadvisor user reviews during the search process provides insight to help choose the best experience for your interests. Explore all the possibilities at https://www.globalexperiencescard.com/.
Imagine the possibilities (Just a sample of the 350,000 things you can use the Global Experiences Card Powered by Viator to book and do):
- Entrance tickets to the Eiffel Tower in Paris
- Italian cooking class in Tuscany
- Sunrise kayak tour in Cape Town
- Architecture boat cruise in Chicago
- Guided hike in the Swiss Alps
- Wine tasting in Napa Valley
- Food tour of Tokyo
Redemption: Online only
Expiry: 3 years
Terms & Conditions: Click Here
We're changing the way you send and receive digital gift cards! Check out our range of personalisation options below and send the ultimate digital gift experience. Your digital gift will be sent directly to the recipient's phone and email. It's the no-plastic gift of choice! Need to schedule this gift delivery in advance? Make your purchase now and we'll deliver the digital gift on any date you choose.
eGift Card purchases are final. Cancellations/refunds cannot be provided for mistakes or change of mind.