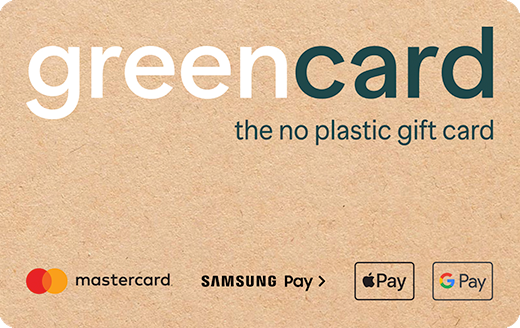 Redeemable
In-store
Online
Gift Card Details
What better way to help sustain our environment and reduce waste than with a digital card which you can download straight into your smartphone's digital wallet.
Valid for use in store or online in Australia where Mastercard is accepted
• Recipient must have an Australian mobile number to use
• Recipient's smartphone must be compatible with Apple Pay, Google Pay and Samsung Pay
• For online use, the total transaction value cannot exceed the available Digital Mastercard balance unless the merchant site has the capability to support split transactions
• Cannot be printed as a voucher
• Valid for 3 years from date of issue
• For full terms and conditions click here
Recipient must have a smartphone with Apple Pay, Google Pay or Samsung Pay to use this digital gift card. The Card is a Mastercard prepaid card that can be used for purchases where Mastercard prepaid cards are accepted for electronic transactions (excluding transactions at ATMs or over the counter at financial institutions), however limited to the merchant categories indicated by your card. Australian redemption only.
The recipient of this gift card will need to visit the card issuer's website to convert the gift card into a Digital Mastercard. The activation link will be supplied with the digital gift card.