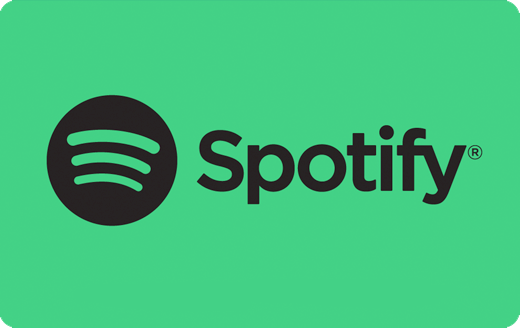 Redeemable
Online
Gift Card Details
3 Month Subscription - $36
6 Month Subscription - $72
Give the gift of non-stop music. Spotify Premium puts all your favourite music in your pocket so you can play any song, any time, any where - perfect for the music lover in your life, or that friend who has everything. The gift card is redeemable for full price standalone Premium subscription months only and cannot be redeemed for discounted or group subscriptions (such as student discounts, trial offers, Premium for families, or offers combining Premium with other companies' products or services).
Redemption: Online only. Recipient must have or register for a Spotify account in Australia. It is not redeemable for accounts not registered in Australia.
Expiry: 3 years
Terms & Conditions: Click Here
We're changing the way you send and receive digital gift cards! Check out our range of personalisation options below and send the ultimate digital gift experience. Your digital gift will be sent directly to the recipient's phone and email. It's the no-plastic gift of choice! Need to schedule this gift delivery in advance? Make your purchase now and we'll deliver the digital gift on any date you choose.
eGift Card purchases are final. Cancellations/refunds cannot be provided for mistakes or change of mind.