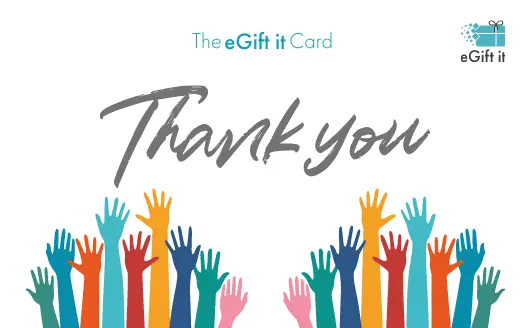 Discount will be applied at checkout
Redeemable
Online
Gift Card Details
The best way to say Thank You is by giving a gift card of choice! The Thank You eGift it card is the ultimate digital gift card as it can be exchanged by your recipient for any branded retailer gift card of the same value on the eGift it website. You can personalise your digital gift card with a greetings card and message, a wrapping, music and animation to create a unique gift experience. The Thank You eGift it card is the gift of choice for your recipient.
For your recipient to exchange their eGift it Card, all they need to do is …
1. Open their gift card link and click on the "Pick You Gift Card" button.
2. This will launch the eGift it web page with all the applicable cards to choose from. Choose a digital gift card from the selection.
3. This will open a page with all the card details and the recipient details pre-populated. Please check the recipient details including email address are correct and amend if necessary. To change the card choice, return to the digital gift card selection page and reselect a card.
4. When ready to complete the exchange proceed simply select the "Swap" button.
5. The digital gift card will be sent to the recipient's email address.
IMPORTANT: Once an eGift it Card is exchanged for a digital gift card this choice is final and cannot be exchanged or refunded. Please select carefully.
For more information got to About eGift it Card